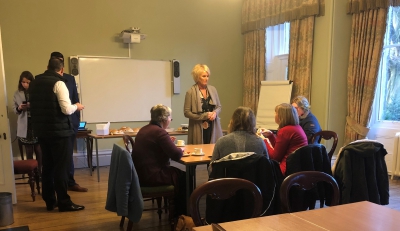 On Friday 19th January 2018, we hosted a taster day for some of the clients we work closely with to showcase our new courses developed and delivered by Paul Callum.
Paul is a recently retired Senior Investigating officer for Derbyshire Constabulary. With 30 years in the force, he specialised in murder, modern slavery and organised crime and was appointed Senior Investigator in the Philpott case. As a senior leader for 250 staff, he also managed several change projects including austerity and the reduction of staff.
Since leaving the force, Paul has championed the Modern Slavery Act and human trafficking agenda, working with several organisations to deliver courses, whilst developing his own business.
About HR Investigations and Interview Skills course
The Investigative Interview and Investigation Skills for HR staff course aims to develop the skills and knowledge within HR teams and provide a detailed understanding of how to initiate and develop an investigation.
Delegates learn how to obtain the best information through a structured approach to interviewing people, including both complainant, person under investigation and a range of other HR functions including recruitment.
Taster day
The taster day began with an introduction to Paul, who detailed his experience as a senior investigator in the force.
The day then featured an overview of HR Investigation and Interview Skills, Managing Allegations and Modern Slavery training, followed by a taster session on interview skills. Paul outlined the methods and models taught during his courses and the relevance to industry.
Paul showcased the bespoke nature of his courses. He expressed to delegates that "all courses will cover self-evaluation and reflective learning cycles, personal development plans, action plans for your company in liaison with you so that the courses are bespoke to your company and specific to the role that your staff have to fulfil". He went on to say "scenarios will be made to your requirements to ensure that they are relevant to your staff and your company". A great way to apply the situations you experience regularly at work, in a learning environment and understand how to deal with these situations in the future.
Reflection
We received some fantastic feedback and look forward to welcoming more clients at Roundhouse Thinking for HR Investigations and Interview Skills, Managing Allegations and Modern Slavery training.
If you would like to know more about the HR Investigations and Interview Skills course, click here.
For bookings, or to speak to a member of the team contact us via email at This email address is being protected from spambots. You need JavaScript enabled to view it. or call 01332 836638.